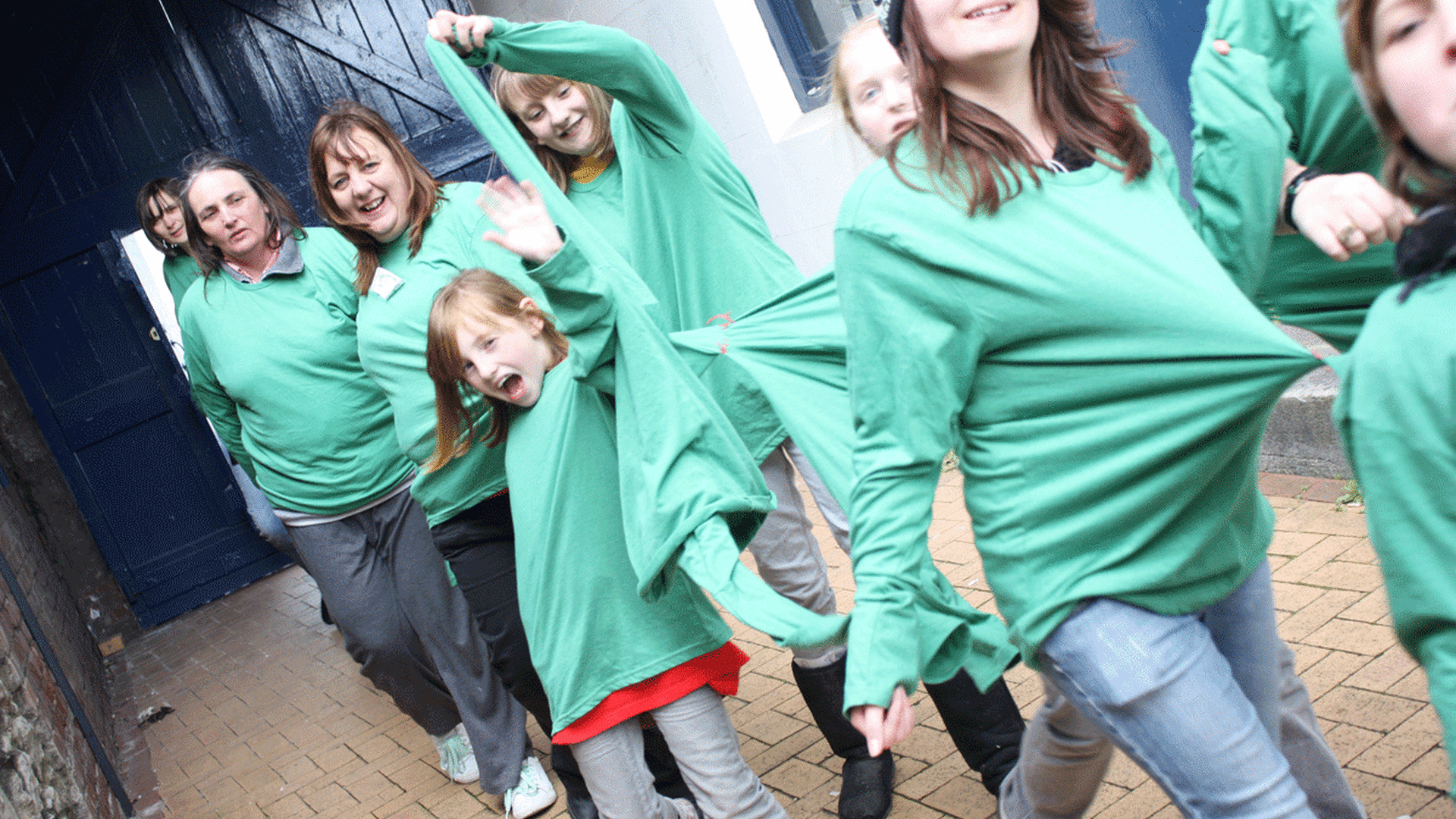 Crazy Glue
Our bespoke after school arts club model for hard to reach families developed with schools in communities we engage with.
In 2008, as a part of High View School's Change School Project, the school investigated ways to engage hard to reach parents using creativity as a tool.
Following initial sessions with artists in school a core group of parents and children were invited to explore and develop this idea further by attending an art residential over 3 days at Dartington Hall. The group were given dedicated time to work alongside artists with their children, explore a range of mediums and build rapport as a group together. Once back at school the group continued to meet on a regular basis after school further developing their skillset by learning about animation and establishing a firm identity and name for the group;
'Crazy Glue' was decided as the name as the group felt they stuck together. They also worked together to create a logo for the group and developed a strong identity and ethos around what the group was interested in.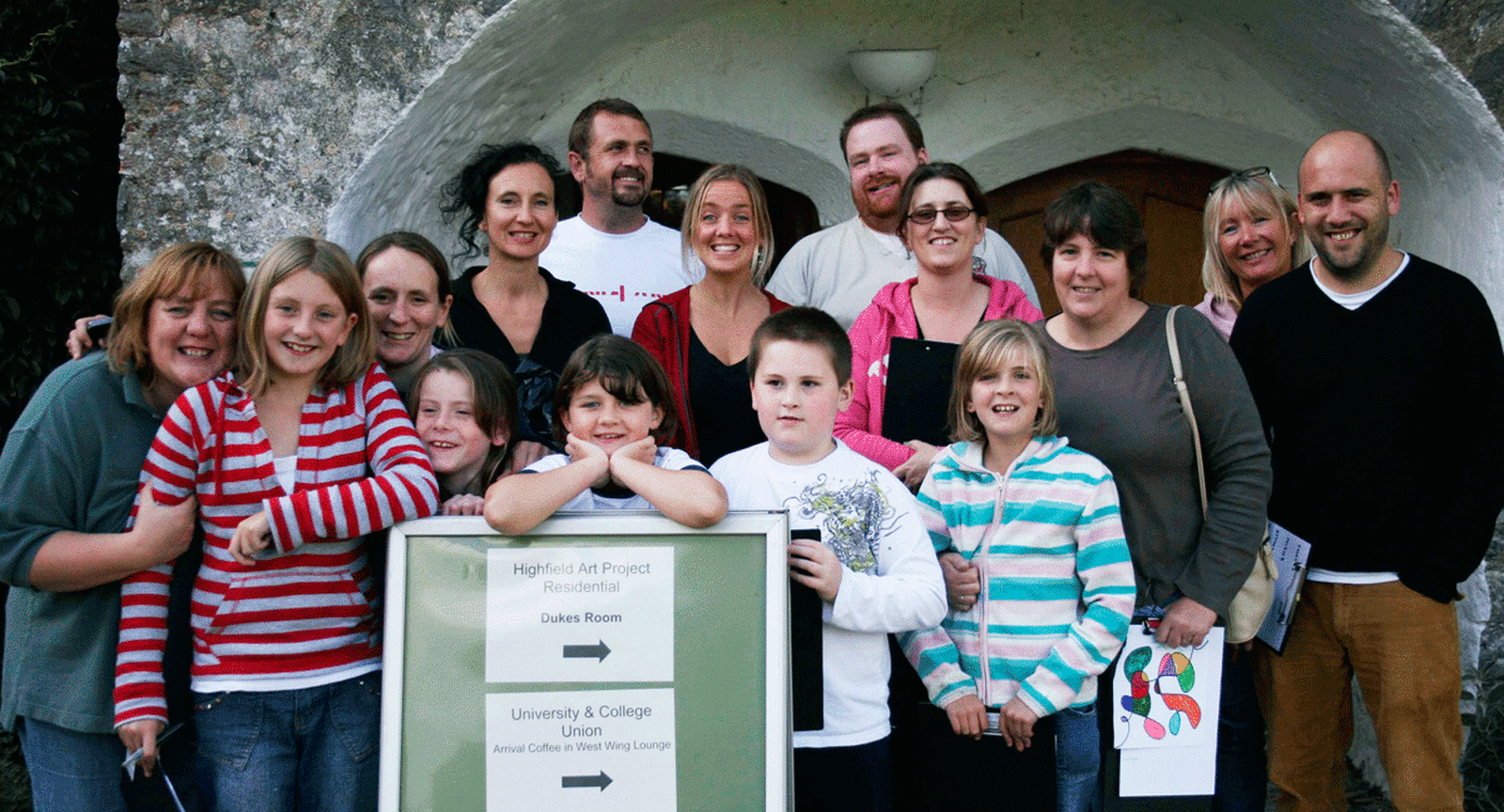 The original Crazy Glue on art residential at Dartington Hall, 2009
Following this initial phase Take A Part, which at the time was a newly developed community arts programme for Efford, began to connect with Crazy Glue. Take A Part worked with the group opening opportunities to explore different art forms with new artists, developing creative projects within the community, providing go and see experiences, taking the group to view contemporary art exhibitions and participating in events with other partners.
The group had no prior interest specifically in contemporary art and being based in Efford meant it wasn't something they often engaged with. Through a programme starting small, with quick win art projects and smaller scale engagement, Take A Part built a trust with the group before beginning to challenge them, pushing boundaries and taking them out to try and see new things. As the rapport with the group developed it became commonplace to see Crazy Glue at city wide exhibition private views, partnering with other art organisations on projects, visiting galleries and taking part in contemporary art exhibitions (even hosting their own) At the same time the group worked with and used creativity to address issues in their community.
One of the most high profile projects undertaken was British Art Show 7, which saw members of the group training as 'Plain speaking tour' guides offering peer to peer tours of the exhibition to other community members. In 2018 this aspect of the project was replicated with plain speaking tours of 'We The People Are The Work'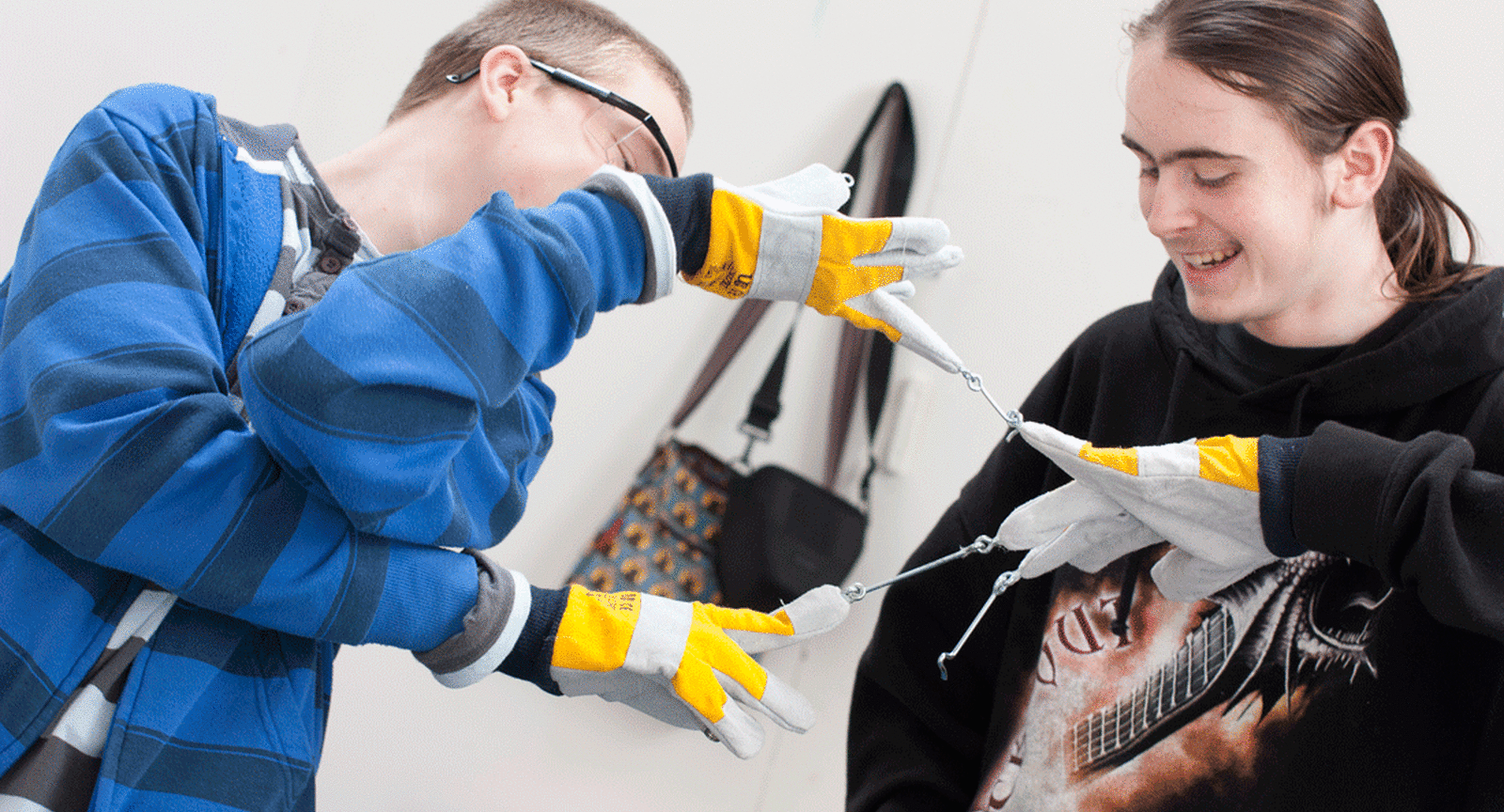 Crazy Glue at a workshop with Graham Guy-Robinson at Plymouth Arts Centre
"Crazy Glue has helped me to bond with my Mum and Sister and gave me a sense of pride about living in Efford and the people in Efford after living here for 18 years. Through Crazy Glue and Take A Part I have made loads of friends that I know I'll keep for life"
Jade: Efford Crazy Glue member 2010-2013
The longevity and commitment of Crazy Glue is hugely positive; many of the members from the original group, who began with the group aged 7-10, are now in their teens and early twenties and many have continued to engage in creative pursuits. Those parents that have been involved still talk about their involvement today.
The Crazy Glue model is an important part of Take A Part's programme, enabling connectivity between local schools we are working with, hard to reach families, the community and finding ways to support in connecting those communities to city-wide projects, exhibitions and opportunities.

During 2018 we delivered a year long second iteration of the project in Efford. This was in collaboration with 'Horizon' a city wide visual arts project for Plymouth, during which the group lead again on our plain speaking tours model, as mentioned above. In addition the group worked regularly with artist Soraya Phillips in a series of after school arts sessions hosted a community exhibition and delivered a co-commissioned public art piece for local green space Efford marsh.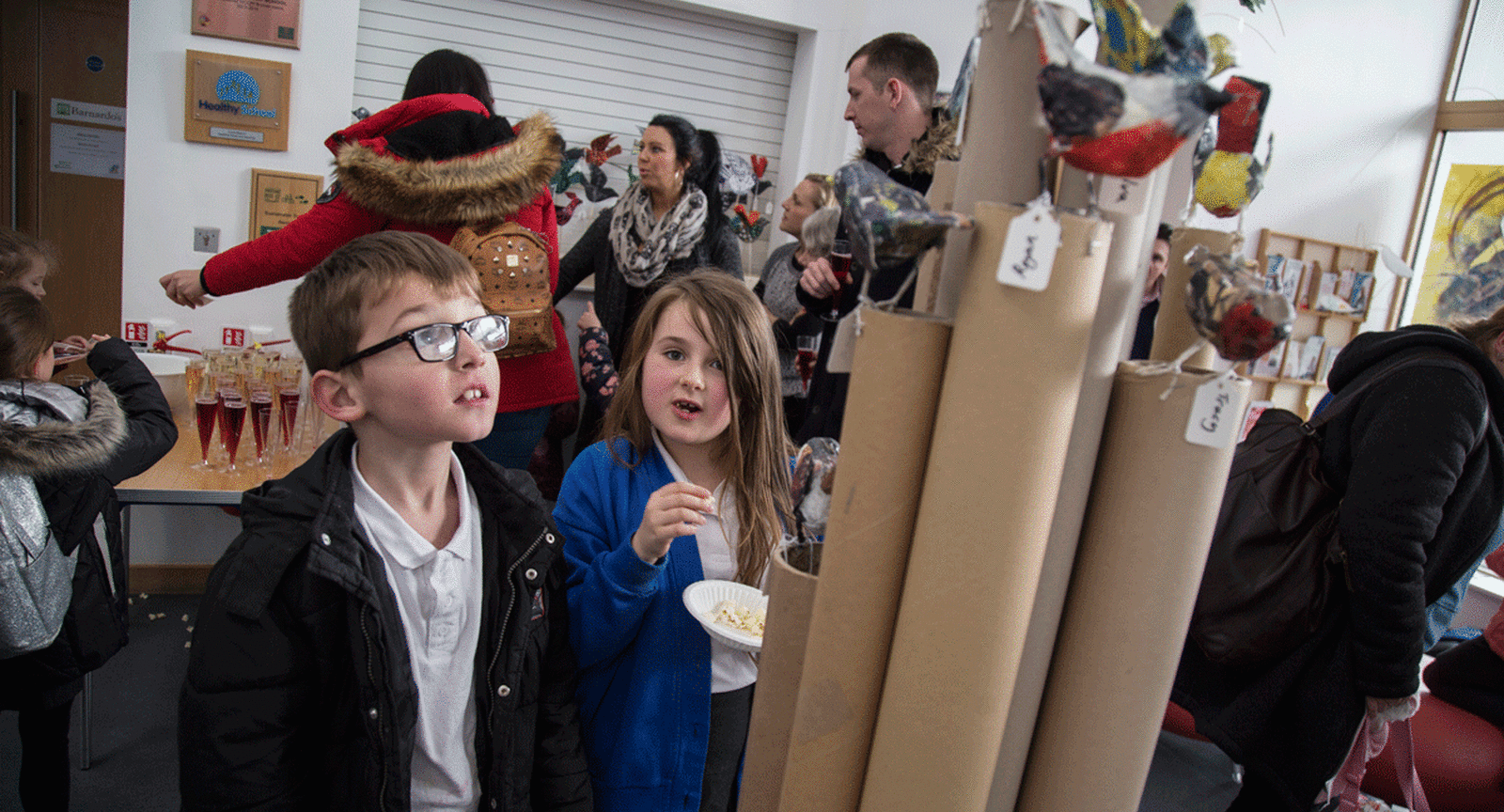 Crazy Glue 2018 share their community exhibition 'The Shape Of Flight'
Most recently we had a Crazy Glue group running with Prince Rock School as part of our Reverberations project with a group of parents and children connecting with the themes of history, journeys, belonging and identity. This group also worked with commissioned artists as part of the Reverberations public realm programme. We also have Crazy Glue running as part of our Centre Of Excellence in Creative Education Project.
Whilst developing the Crazy Glue model with schools it is possible to adapt to suit any community group working with families and we have explored the potential to take this way of working into early years and other community based settings. The content and approach for the group is bespoke but the basic offer is largely the same:
10 sessions with an artist/artists
A creative project connected to the community
Connection/involvement in city or region-wide arts projects and exhibitions
Opportunities for Go & See trips to inspiring/relevant artists, exhibitions, venues and projects.
Over its iterations Crazy Glue has worked with and supported 28 families
Take A Part have supported Crazy Glue in delivering/participating in 30 different projects, workshops, exhibitions and events
Crazy Glue have worked with galleries and National organisations including: The Hayward Gallery, The National Trust, the Philharmonia Orchestra, Plymouth Arts Centre, Situations
Crazy Glue have worked on projects including; Lifting The Fog (BAS7) Nowhereisland Radio, Horizon (We The People Are The Work) Sculpting Saltram (National Trust)
Since 2005, Efford, the home of the Crazy Glue model, has moved from being the 5th most deprived ward of Plymouth to 12th most deprived according the Index of Multiple Deprivation
High View School was awarded Arts Mark Gold, a first for a Plymouth School
High View School has gained Ofsted Outstanding in 2011 for its community engagement and creative work with support from Take A Part CIC
web links to organisations
For further information and support, contact Take A Part CIC.