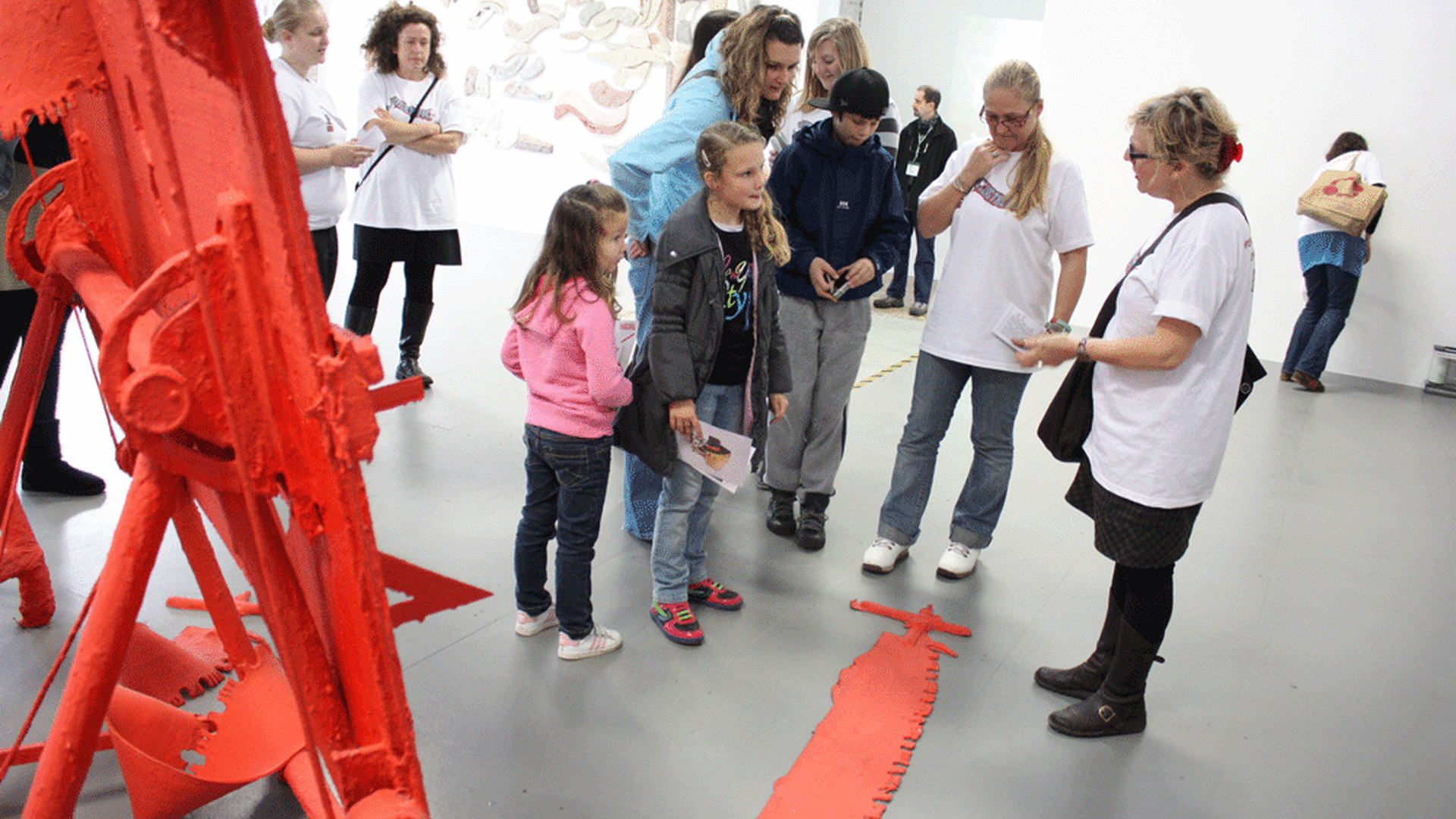 British Art Show 7
Take A Part worked with our community arts group 'Crazy Glue', Plymouth Arts Centre and artist Gil Nicol to create a 'Plain speaking Tour' of the British Art Show 7.
When the British Art Show was announced for Plymouth, we were very excited! What a great chance to get people in the region seeing some great art and what a catalyst for change across the city. Take A Part got stuck into the job of commissioning new work, raising awareness and getting communities involved in the process.
This is what we did…
Magic Hour & Crazy Glue Explore BAS7
We took a coach trip of Efford residents and members of High View School's Magic Hour group (a film based social enterprise led by Hana Backland) up to London for the day to see the British Art Show at the Hayward on a research and development trip. The result was this lovely film 'British Art Show 7′.
The group developed a real sense of ownership and expertise over the show. We had a great day as you can see!
Following the trip, we sat down with Efford art group called Crazy Glue to decide on our next steps. They were keen to share their experience of British Art Show 7 with other communities in the city. They also wanted to give these communities the chance to do something interactive and creative as a group so we decided to work with a cob artist we had worked with in Efford called Alain Pezard to make a series of 5 new works in the areas of Efford, Honicknowle, Barne Barton, North Prospect and Whitleigh. The entire process took place over the summer of 2011.
The sculptures took 3 days each and gave the Crazy Glue group the chance to have conversations with the communities about contemporary art, about how often they engage in art and to encourage them to go and see British Art Show 7 in Plymouth. It also allowed Take A Part to meet these neighbourhoods and begin a long term relationship with them. The entire process was recorded by High View School's Magic Hour group and was made into documentary film 'The Art Orbit'.
When British Art Show 7 opened in Plymouth in autumn 2011, Take A Part was excited. We had some conversations with Plymouth Art Centre over what we could collectively work on to bring people from the Take A Part communities to BAS7. We wanted to make the art accessible and make visiting the show a comfortable experience. So we worked with interpreter Gill Nicol and a group of Efford residents from Crazy Glue for an intensive 2 month period to learn about what contemporary art was and to talk about what they liked or did not like in the show. The project was not about learning all the artists names and histories and interpreting the work to others - it was about giving people to confidence to have opinions about art and being able to talk about how the work in the show made them think and feel.
Take A Part and Plymouth Arts Centre delivered tours to Barne Barton, North Prospect and Efford on a one day Plain Speaking Tour. We saw work, shared thoughts and opinions, met new people and made new connections. It was intense and enjoyable and who knows, we may just see Efford leading more Plain Speaking Tours of shows in Plymouth in the future!
How do you raise awareness of British Art Show 7 in communities who don't normally visit contemporary art shows? Bring it to them! That is what Plymouth Arts Centre did in October 2011 in a series of mini arts road shows across the city.
7 events over 7 days in 7 communities, Plymouth Arts Centre led the Lifting the Fog project. With a radio broadcast on Freesound FM 87.9FM where experiences and stories of BAS7 work in the city mixed with community interviews, song requests and vox pops led by sound artists Mark Vernon and Neil Rose. Plymouth artist Graham Guy Robinson delivered lots of fun arts workshops with an emphasis on British Art Show 7 themes and artworks and Take A Part toured the Grow Efford Travelling Apple Press.
Each community we visited during the week (Stonehouse, North Prospect, Barne Barton, Honicknowle, Devonport, Efford and Whitleigh) were asked to contribute their own ideas, interventions and activities for the week. There were zumbathons, bulb planting, markets, consultations, sports events, karaoke, lovely food stuffs and more on offer and the result was 7 unique and lovely community events. A great chance to meet Plymouthians on their turf and to chat and encourage visits to British Art Show.
For more information about Freesound and the programme of work, visit the Freesound website – www.freesound.org.uk.