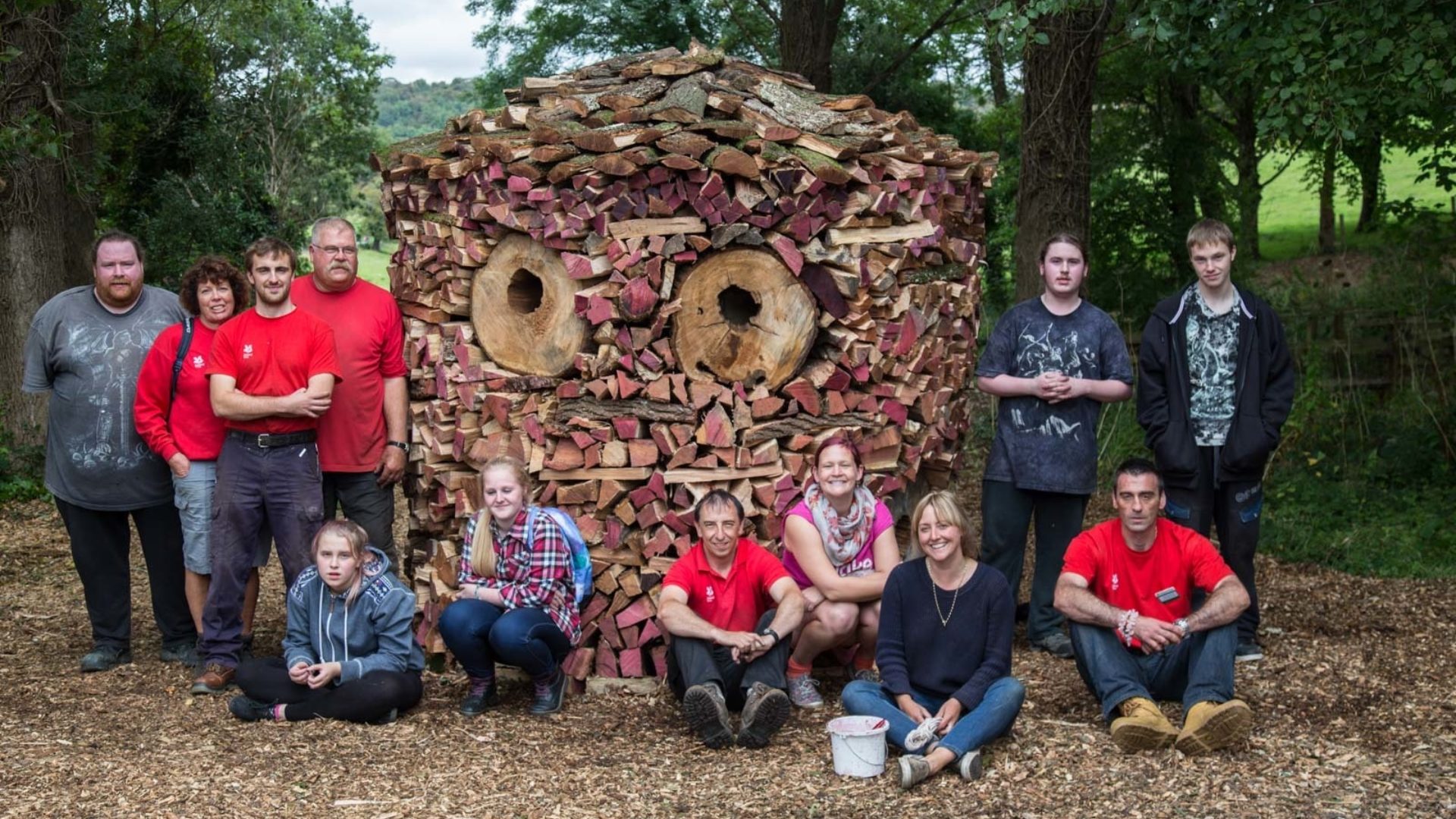 Sculpting Saltram
Take A Part were pleased to work alongside the National Trust at Saltram House to create a series of sculptures, forming a trail around the grounds of the site across 2015 and 2016.
Focusing on the history of the grounds, as well as considering the natural surroundings of each place, we worked in three sites across Saltram to create sculptures linking and promoting a new play trail.
The sculptures were designed and built by artists alongside groups of young people from Efford, Barne Barton and Stonehouse who drove the process. The final trail completed in September 2016 and a map sharing the route was created by one of the artists alongside bespoke carved signs showing the name of each site.
Sculpture 1 was created by Efford group Crazy Glue in September. The group worked alongside artists Joanna Brinton to create a colourful Holzhausen stack which represents the historical farm life of Saltram.
Both used as a farming method to dry wood and representative of a haystack the Holzhausen sits at the entrance to the first of the three sites drawing people in and encouraging them to explore the new play area as well.
Sculpture 2 was created by Riverside School in Barne Barton. They worked alongside George Lovesmith to create a sculpture connected to the Saltmarsh area of the Saltram estate. The group looked at exploration of outdoors spaces, storytelling, hiding and viewpoints to develop their design. The final sculpture was inspired by these aspects and also influenced by the wildlife of that area; incorporating a large amount of willow into the build.
The resulting sculpture allows people to crawl through, explore, look at the view and jump off at the end, it very much encapsulates the themes of play that are important to the overall project.
Sculpture 3 was made with artists Anna Boland. Pupils from Plymouth School of creative arts, volunteers and air cadets worked tirelessly to carve the sculpture. The group explored and researched the military history connected to Saltram which saw the 29th troop stationed alongside their vehicles at the site during WW2. The group were interested in the idea of dissected objects and Anna worked with them to create a design that worked across 8 panels of oak and showed a tank. The panels were placed in a staggered way into the ground meaning that from just the right angle the carving of the tank can be fully seen. On closer inspection the detail within each panel can be admired as well. Alongside the sculpture the volunteer team helped to place a large trunk into the ground into which people can carve their names, just like the troops did when they were on site.
The project culminated with a launch of the play trail at the start of September 2016.
This project was made possible by Heritage Lottery Funding.