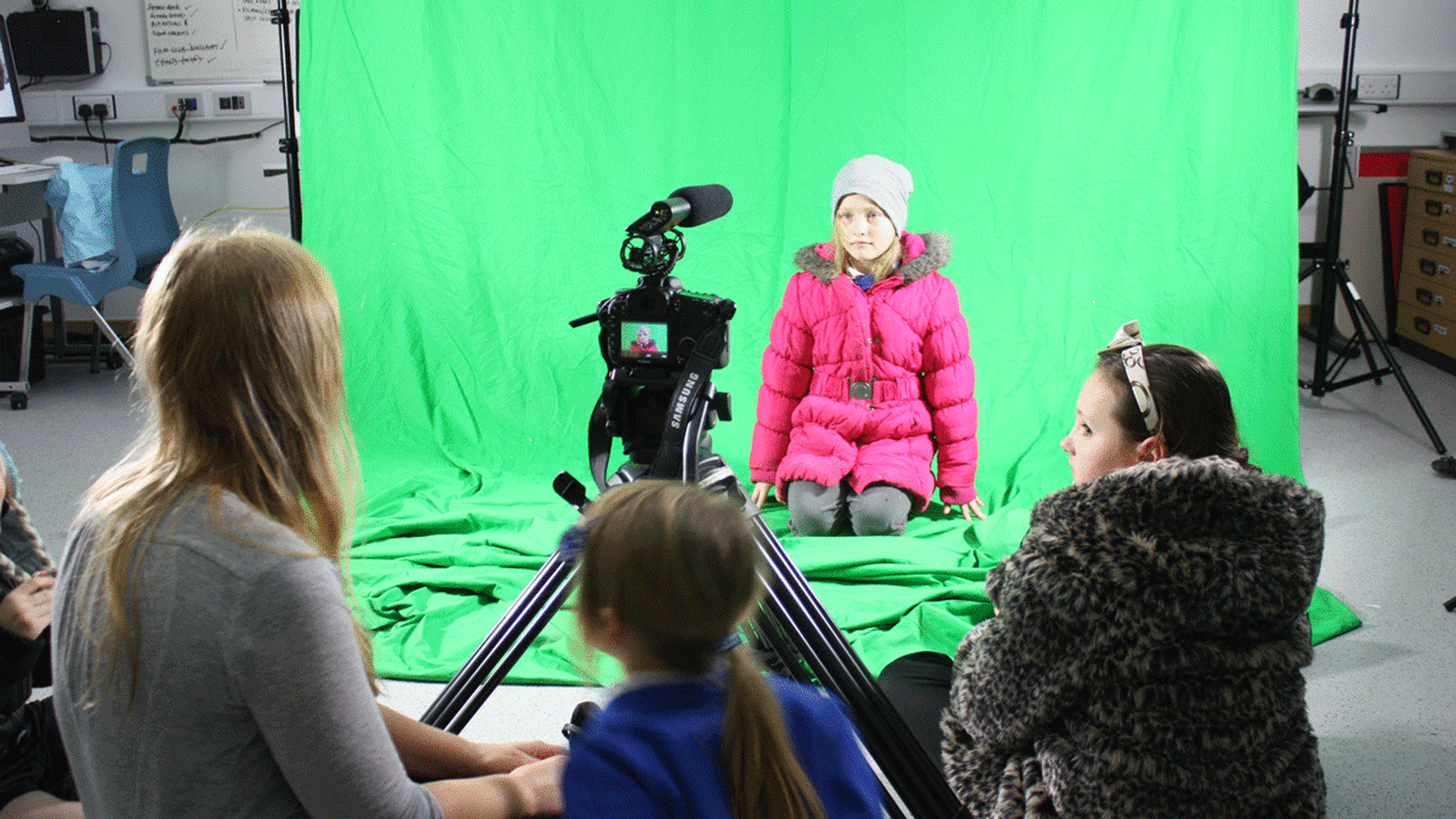 Creative Education
School is often at the heart of a community as well as at the heart of Take A Part's work.
School is often at the heart of a community and through the work Take A Part has delivered - particularly in Efford where the school has been an important partner in many creative projects. The relationship that has developed between Take A Part and High View School has enabled opportunities to be offered to both pupils and their families that connect to their community, grow skills and confidence, push boundaries, challenge and take risk through art.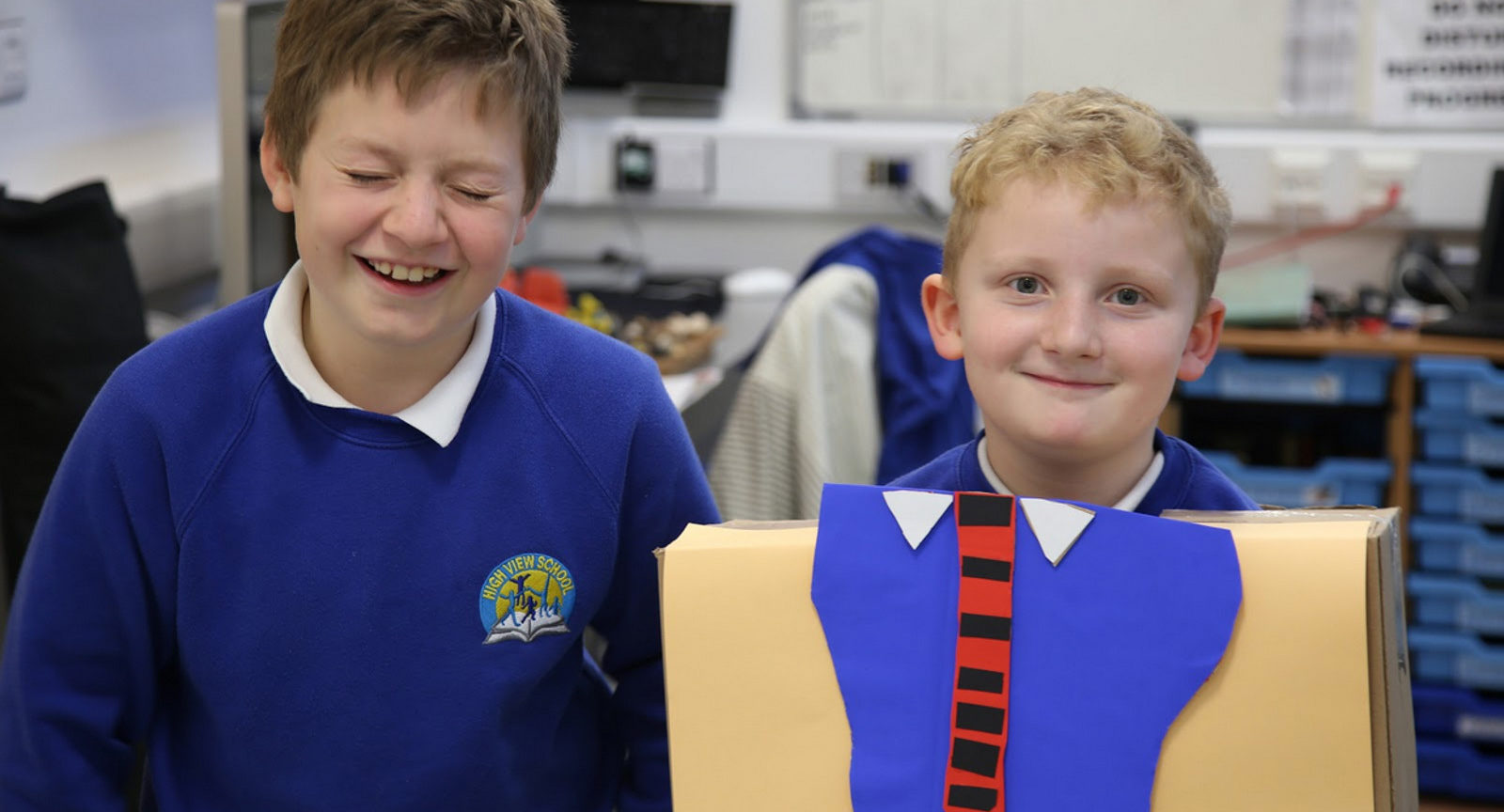 Pupils creating costume as part of a creative heritage project.
High View School always took a creative approach to teaching, but took the opportunity to explore this further in 2008 as part of a Change School Project funded by the Real Ideas Organisation. The school began to investigate creativity within the curriculum and arts as a tool for connection. They developed a project to engage hard to reach families using creativity as a tool. Artists were brought into the school to explore and develop creative approaches and an after school art group consisting of parents and their children was developed. Following these initial sessions, a core group of parents and children were invited to go further by attending an art residential over 3 days at Dartington Hall alongside two resident artists, the headteacher of the school and a dedicated creative producer supporting the programme of work.
The group were given dedicated time to work alongside artists with their children, explore a range of mediums and build rapport. Once back at school the group continued to meet on a regular basis further developing their skills via sessions with visiting artists and establishing a firm identity; 'Crazy Glue' was selected as their name.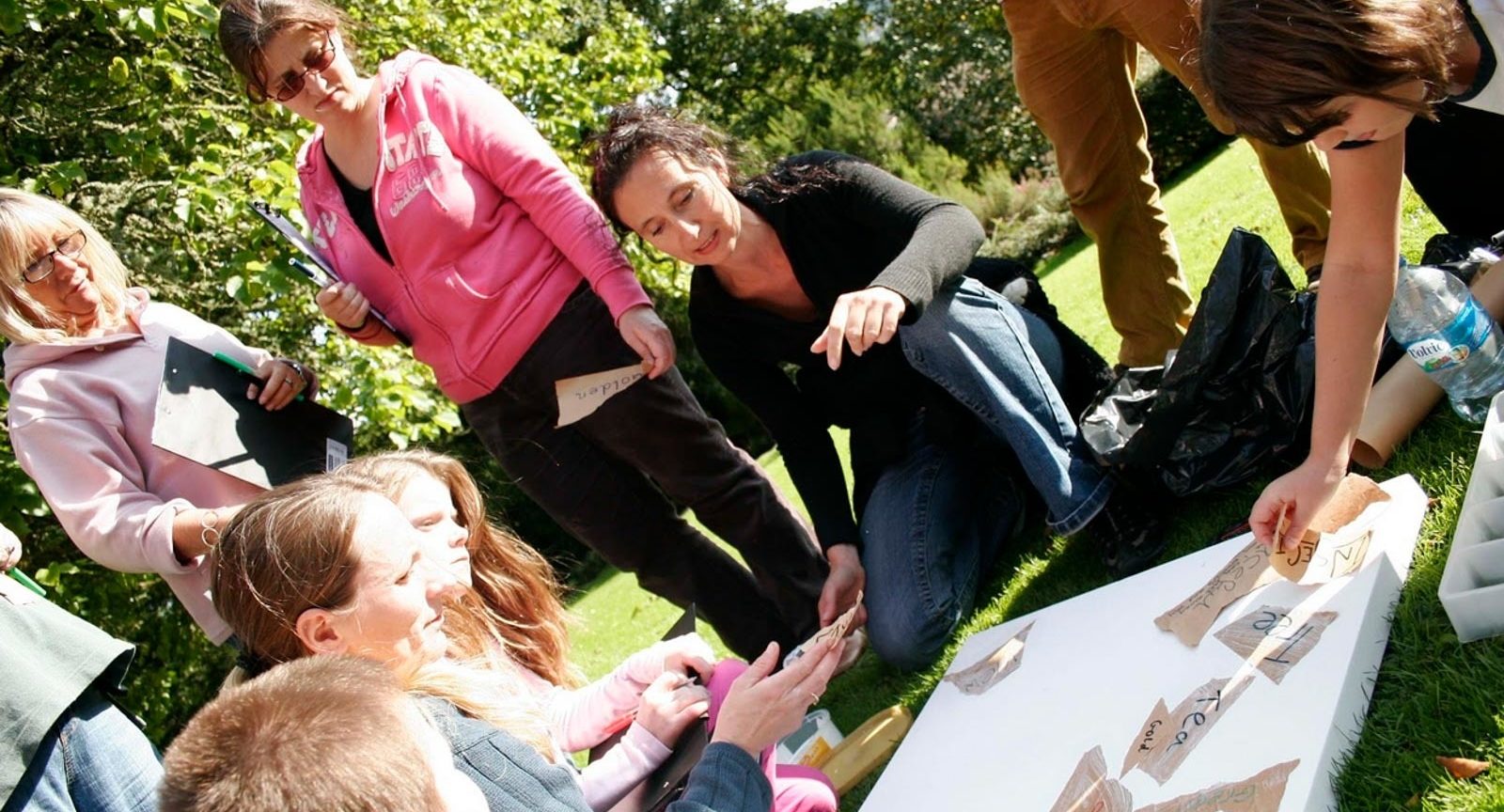 Families at the Dartington art residential.
At this time Take A Part was a newly developed community arts programme establishing itself in Efford. Community Curator Kim Wide (now TAP CEO) knew that the school would be a good point for connection and opportunity to meet families within the area. Take A Part began to work with the Crazy Glue group opening opportunities to work in different art forms with new artists and also providing go and see experiences, taking the group out to view contemporary art exhibitions and participate in events. This was the start of a long term relationship with Take A Part supporting the development of creativity within the school.
Starting with smaller community based projects Take A Part encouraged families from the school to try new things, see news things and establish themselves as 'art experts'. As their confidence grew the group took more risks, collaborating with local arts galleries, attending private views and developing their own projects. Crazy Glue became a 'go to' group within the city. A group of 'real' people living within the city that were interested in art, would come see things have an opinion and 'have a go' at something new. Every time they participated the group brought their learning and experiences back to both the Efford community and the school. This was supported through each project by a creative producer co-funded by Take A Part and High View and intrinsic to the workings of the project. This development, of a role that could understand the workings of a busy school and the needs of an arts organisation, became the lynchpin of the working relationship between the school and Take A Part.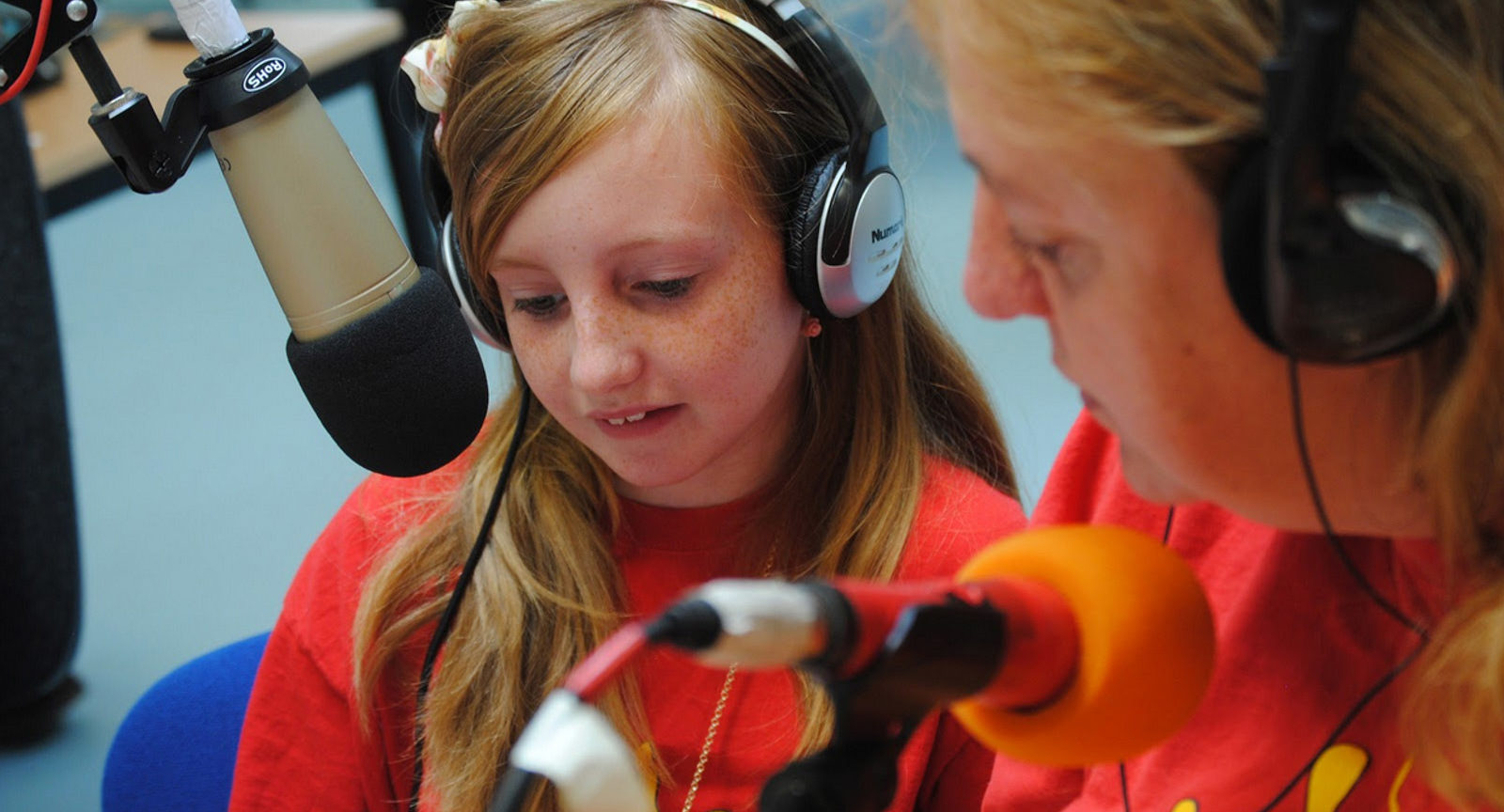 Members of Crazy Glue presenting on a local radio project.
With the support of Take A Part, Crazy Glue got involved in British Art Show 7 - advocating for its arrival in other communities via a series of creative workshops as well as leading on 'Plain Speaking' tours of the exhibition when it came to the city. They visited the exhibition in London and became the go-to community experts when it arrived in Plymouth. This was a model of working that was replicated again in 2018 as part of game-changing visual arts project 'Horizon'.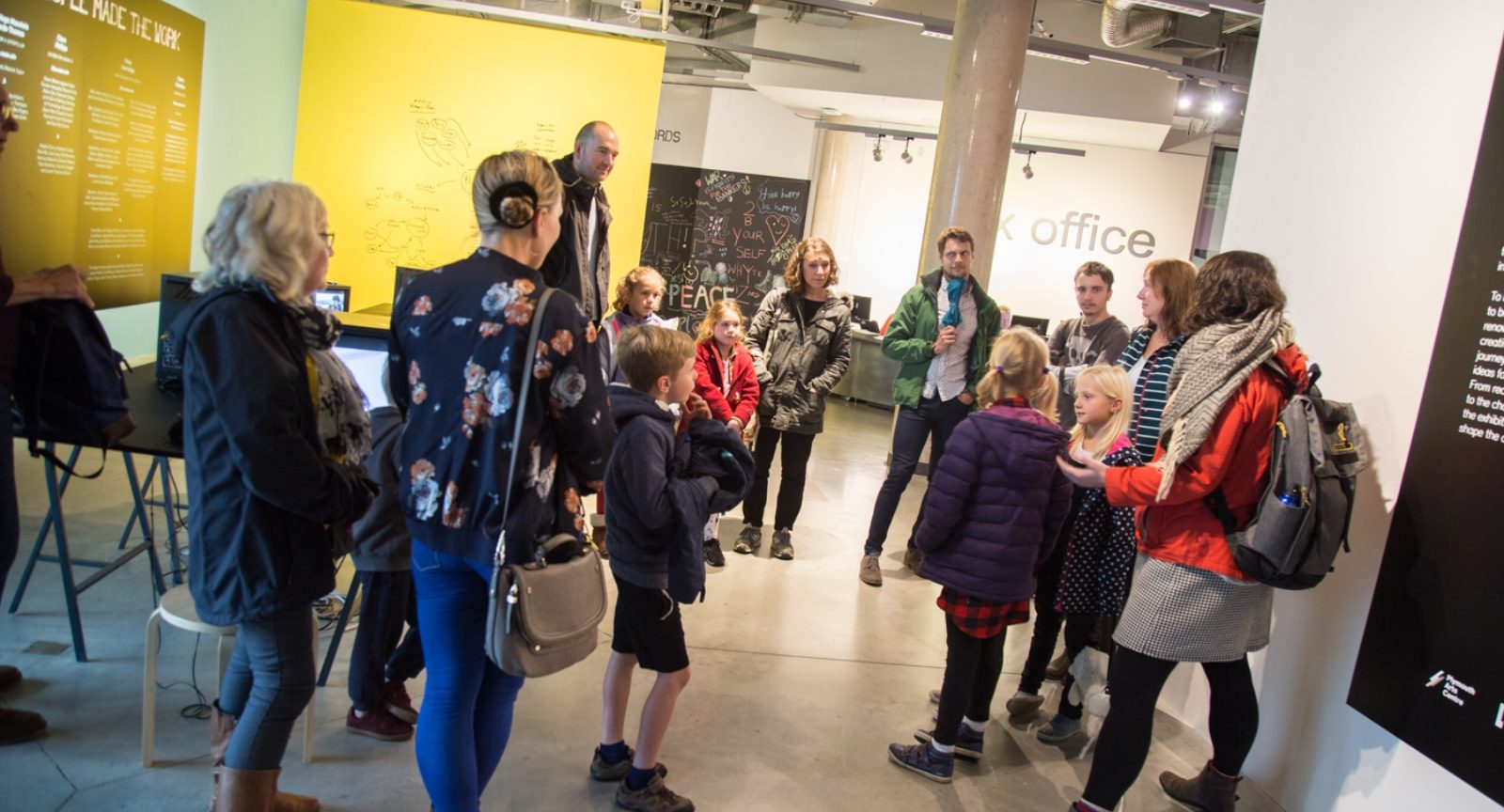 Plain Speaking Tours of 'We The People Are The Work' during the Horizon programme, 2018.
The ambition of the Crazy Glue group and the wealth of opportunity for families from Efford developed with Take A Part supported a growing appetite within High View School to keep being creative and growing creative approaches to learning.
Alongside the Crazy Glue group, Take A Part and High View School developed 'Magic Hour', a film and photography social enterprise led by a resident filmmaker which took on camera skills as a way to connect to the curriculum in a different way. Magic Hour explored filmmaking via animation, green screen and live action work. Initially developed to create films connected to themes within the school (Africa/minibeasts/rivers, etc), the possibility and ability of the pupils to learn through film soon saw Magic Hour entering, and winning, local film competitions, leading peer-to-peer sessions with other schools and collaborating with secondary school pupils on projects.
In 2012 Magic Hour was commissioned by Bristol based organisation Situations to develop a film about 'Nowhereisland' - a Cultural Olympiad project. Magic Hour was tasked with creating a short film that could explain the project to other schools within the South West. The film was screened regionally on BBC Big Screens and was shared across many primary schools. Alongside their growing work with external partners, Magic Hour was commissioned frequently by Take A Part to capture a range of local projects within Efford and grew a reputation for excellence in film production within the city. In 2017 Take A Part was commissioned by The Arts Institute to develop a response to 'Present Moments and Passing Time', a retrospective by filmmaker Malcolm Le Grice. Take A Part collaborated with Magic Hour to develop a 6 week project with local filmmaker Allister Gall which explored many filmmaking techniques. The project culminated with a community film screening which Malcolm himself attended.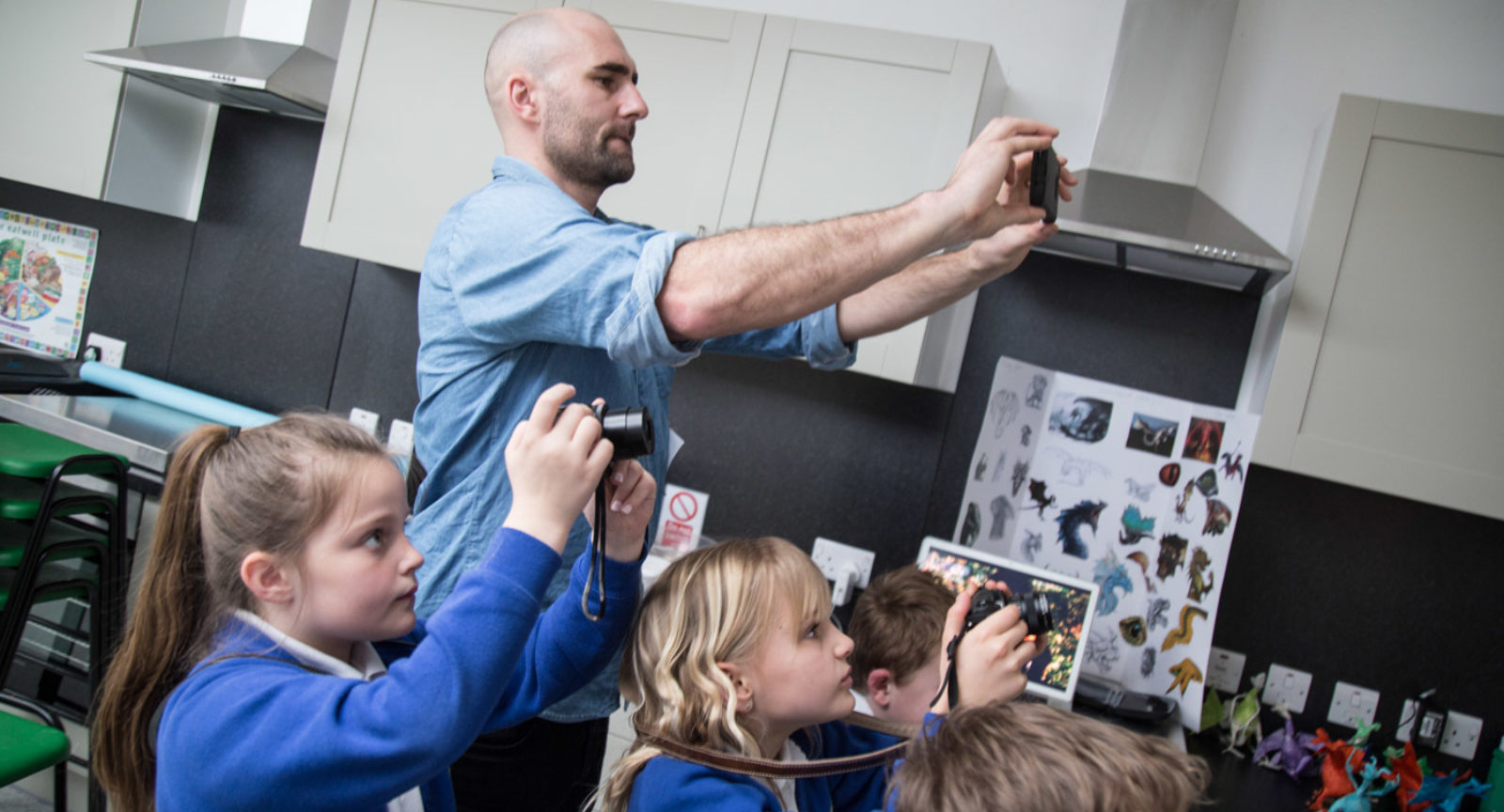 Magic Hour filming with Allister Gall.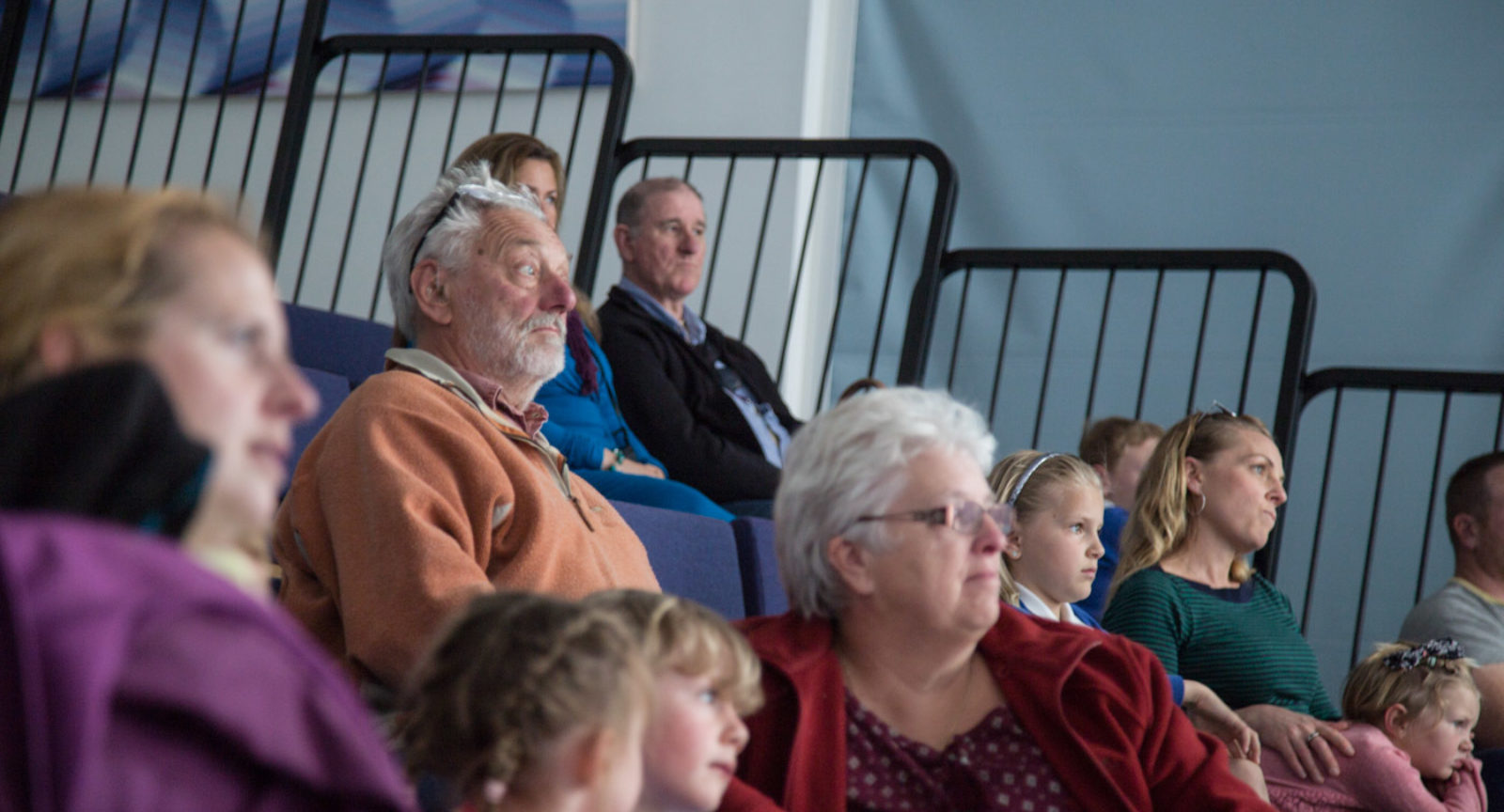 Community screening at High View with Malcolm Le Grice in attendance.
The value of creativity within High View is huge. In 2013 they were one of the first schools to be awarded Arts Mark Gold and the ethos of utilising a creative approach to teaching meant that internally creative approaches developed and progressed; whilst the opportunity for connection to the community and city that Take A Part supported meant there were connections to more projects of profile within the city.
Via the partnership with Take A Part, High View School has been involved in projects with the Philharmonia Orchestra (London), The National Trust, The Hayward Gallery, Situations, Plymouth Arts Centre, The Arts Institute and Horizon.
High View and Take A Part now share a clear model of working and High View recently applied for, and was awarded, its own Arts Council England funding to develop as a Centre of Excellence for Creative Education. The project will develop High View's creative approaches further and will also connect with two partner schools in the city. The programme will see peer to peer development for teachers in creative education, opportunities to develop artists in residence in an education context, development of another iteration of the Crazy Glue model, development of more in-school producer roles to support and advocate for creative activity within the school and connection to wider creative projects within the city, region and beyond. This project will run for a year and act a piece of action research culminating in a webinar to share learning. You can read more about this work here.
The relationship we have developed with High View has led to the development of exciting and high quality work and projects. School continues to be a key way for us to connect with and engage local families and support in growing relationships, confidence and opportunities. We are committed to continuing to connect with schools to offer the chance to develop skills, grow networks, test new ideas and push creative boundaries.
As part of a recent CPD session for practitioners as part of the With Flying Colours Programme Take A Part shared our learning with High View School with focus on the relationship between schools and artists and/or arts organisations. Participants in the session worked with us to create an awesome open source resource sharing tips and tricks for great collaboration. You can check out this resource here.
Via our work with High View Take A Part have become experts in Creative Education and would love to help YOUR school to embed creativity and community building. If this interests you, get in touch!
Over its iterations Crazy Glue has worked with and supported 30+ families
Take A Part have supported Crazy Glue in delivering/participating in 30 different projects, workshops, exhibitions and events
In partnership with Take A Part High View School have worked with galleries and National organisations including: The Hayward Gallery, The National Trust, the Philharmonia Orchestra, Plymouth Arts Centre, Situations, The Arts Institute.
And worked on projects including; Lifting The Fog (BAS7) Nowhereisland Radio, Looking For Silence, Horizon (We The People Are The Work)
Since 2005, Efford has moved from being the 5th most deprived ward of Plymouth to 12th most deprived according the Index of Multiple Deprivation
High View School was awarded Arts Mark Gold in 2013
High View School went from Special Measures for Literacy to being awarded UK Literacy School of the Year in 2014 for its creative approaches to the curriculum
High View School has gained Ofsted Outstanding in 2011 for its community engagement and creative work with support from Take A Part CIC
For further information and support, contact Take A Part CIC.