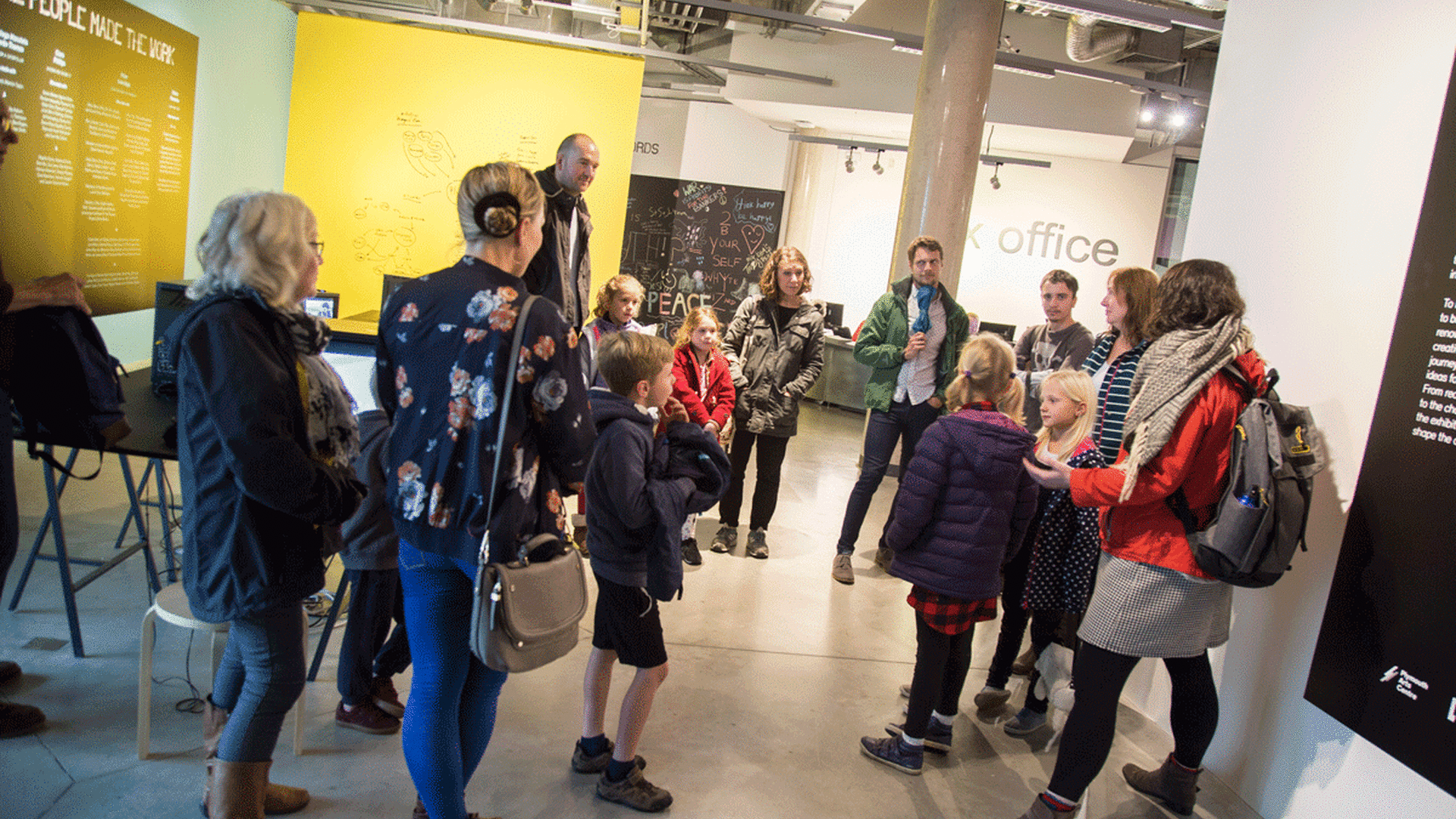 Plain Speaking Tours
Take A Part has worked with community arts groups for over 10 years to develop their 'Plain Speaking Tours' model, collaborating with residents from areas within the city and giving them opportunity to grow their understanding and confidence around contemporary arts by acknowledging that everyone can be an expert.
First established during British Art Show 7 in 2009 the aim of the tours was twofold; to grow a community based audience that could advocate for and feel confident in discussing contemporary art with their peers, and to offer a wide range of people an opportunity to access and experience art exhibitions and feel comfortable within the spaces to discuss, reflect and have an opinion on the artwork being shown.
Art often feels very city- centric in Plymouth; TAP had a desire to break down the barriers to accessing great galleries, exhibitions and projects by developing a model that would enable those that had never really engaged with art to feel that they could do so in a very real way.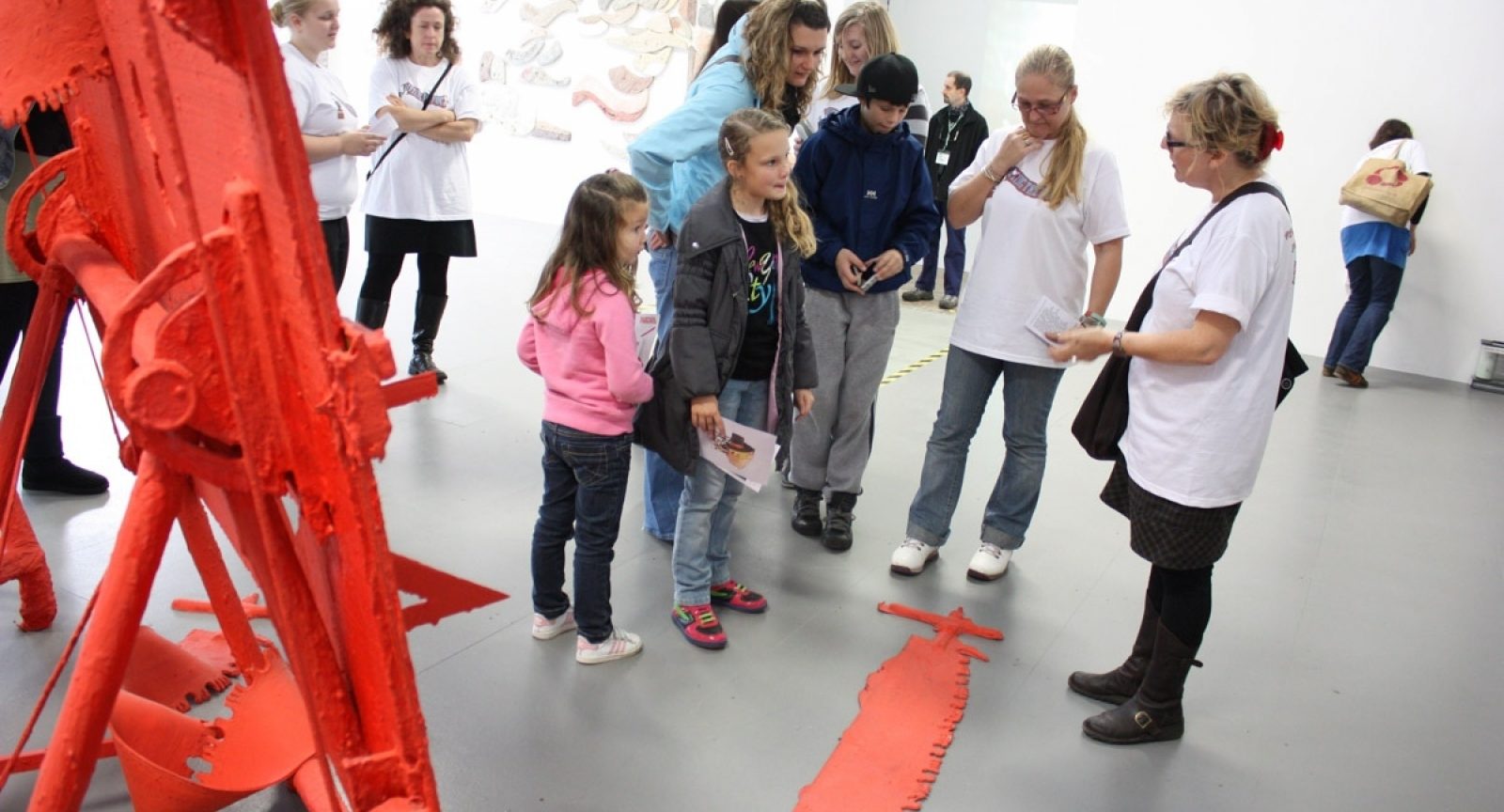 Art group Crazy Glue leading a Plain Speaking Tour at British Art Show 7, 2009
The Plain Speaking Tours are led by community members who are trained by a lead artist educator around the themes, narratives and artists involved in an exhibition. The group develop 'tours' designed for other community members in which they lead the audience, conversation and direction. The tours are designed to be informal and fun with the approach that any opinion or thought is valid and welcome for discussion. There is an aim to create a sense of ownership of the tours and advocacy for the artwork being shown.
The first iteration of PSTs took place with Efford based art group Crazy Glue, when British Art Show 7 toured to Plymouth in 2009. Crazy Glue visited BAS7 at the Hayward gallery in London before members of the group undertook training back in Plymouth with Gil Nicol. The group learned about the artists work, had discussion around the themes of the exhibition and formed opinions via debate about the work. The training sessions built up to them leading other community peers on tours of the BAS7 exhibition sites when it arrived in Plymouth. Members from 5 different communities attended the tours, they were recruited during a series of 'pop-up' workshops in their localities that were led by artists but supported by members of the Crazy Glue group. The group members acted as advocates for the exhibition and for contemporary art in the city more broadly. Everyone involved felt a sense of ownership of the exhibition that was coming- particularly as they had visited it in London ahead of its arrival, they also developed in confidence, particularly in terms of public speaking which was something new to the group.
The tours saw new audiences, from areas further out in the city, who might usually find barriers to accessing exhibitions, engaging with contemporary art. They also put Crazy Glue on the map as a 'go to' community group that wanted to actively engage and participate in arts projects and exhibitions.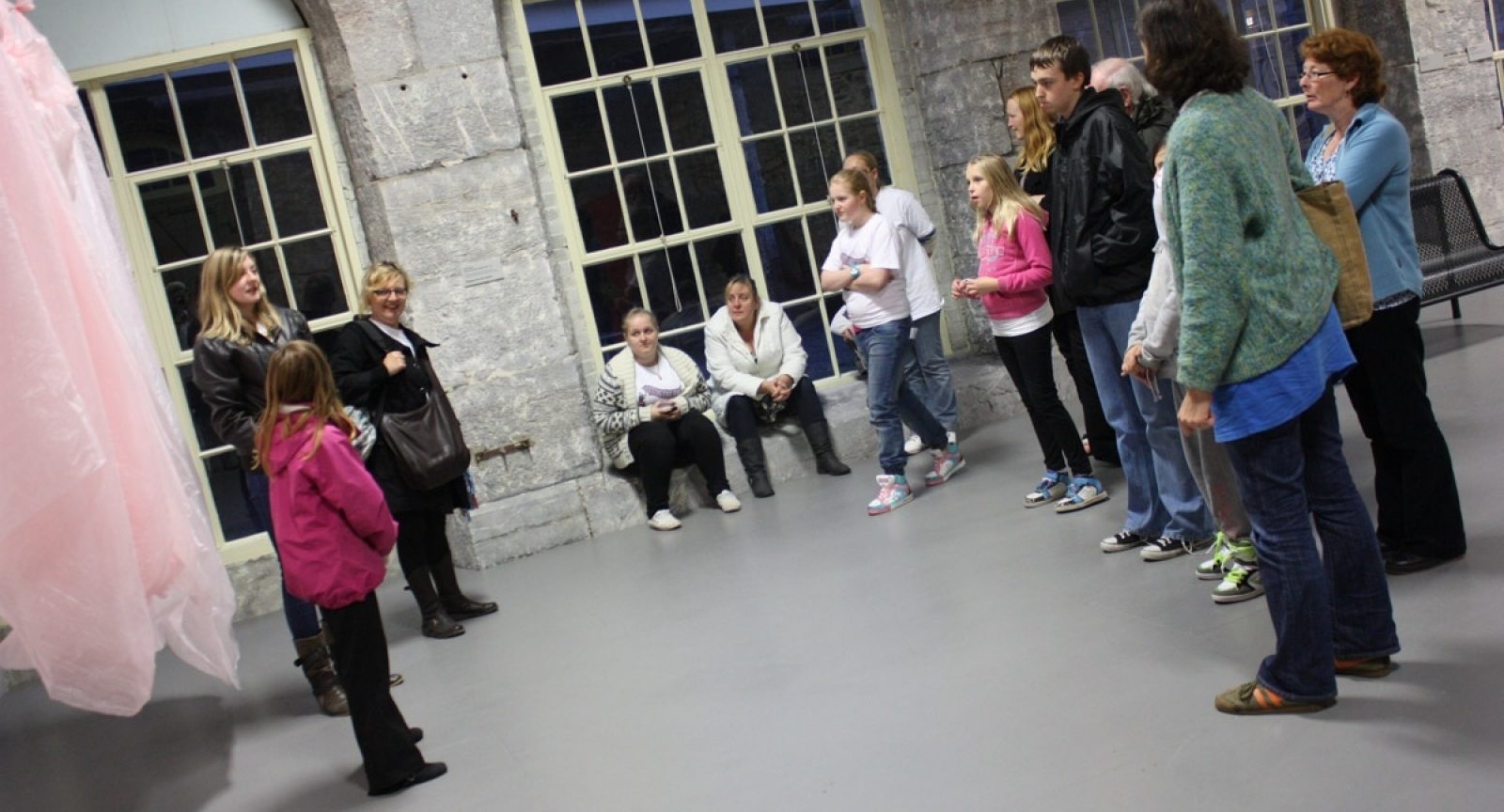 Sisters Shannon and Kiera discuss a Karla Black piece in their BAS7 training with Gil Nicol, 2009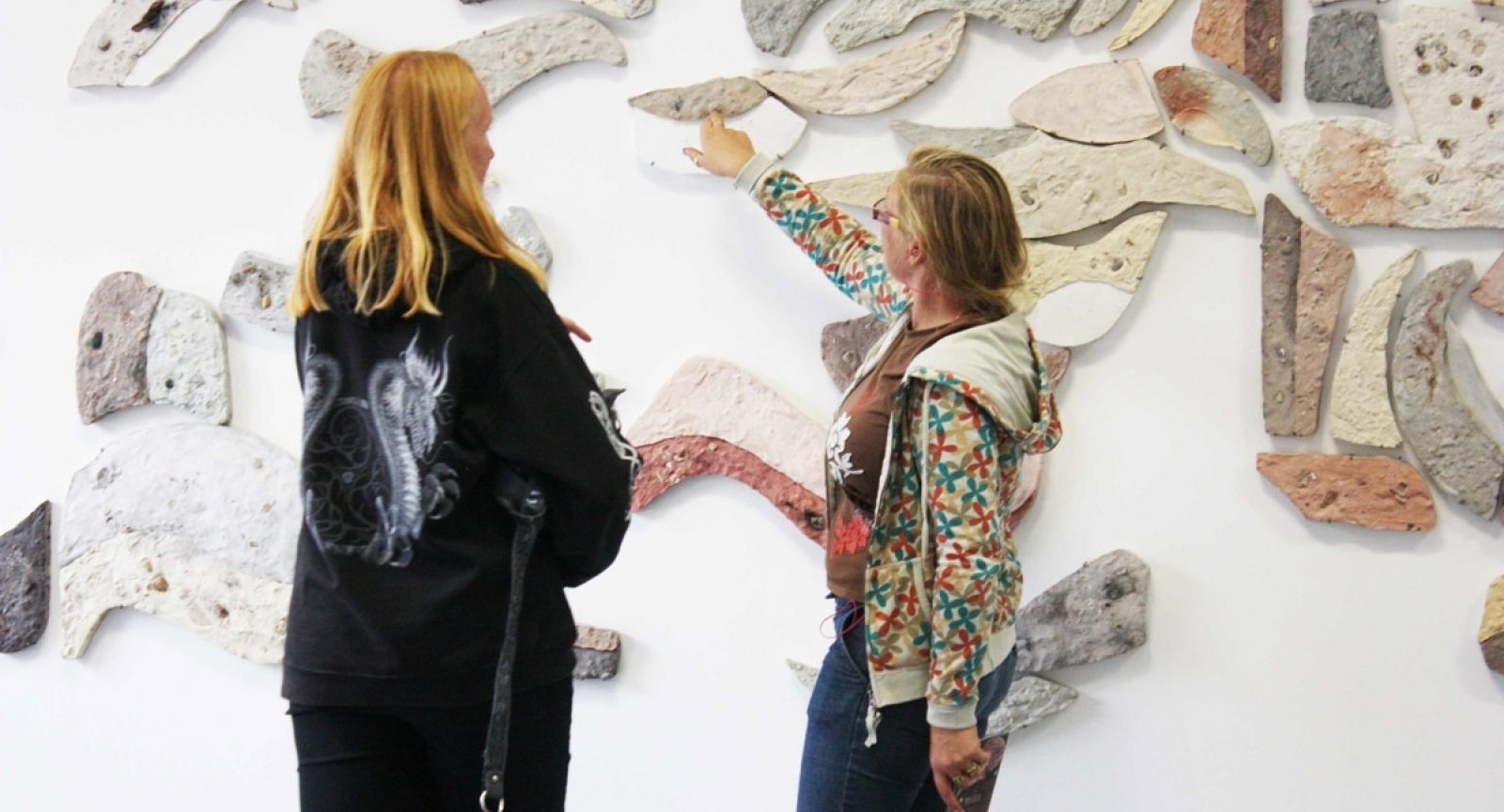 Crazy Glue member Gina discusses a piece with Efford resident Jacky, 2009
In 2018 Plymouth delivered 'Horizon' an ambitious two year visual art project for the city and TAP were commissioned to once again deliver Plain Speaking Tours for one of the multi-site exhibitions that formed the programme. By this point a new Crazy Glue group had been developed in Efford; this group were excited to take on the challenge and opportunity of sharing contemporary art with their peers.
The group undertook training with artist/educator Rachel Dobbs and sessions with project producer Vickie Fear. Engagement with this exhibition both pushed and challenged the participants' perceptions of art. Members from 4 communities within the city attended these tours which formed a part of the engagement offer for Horizon.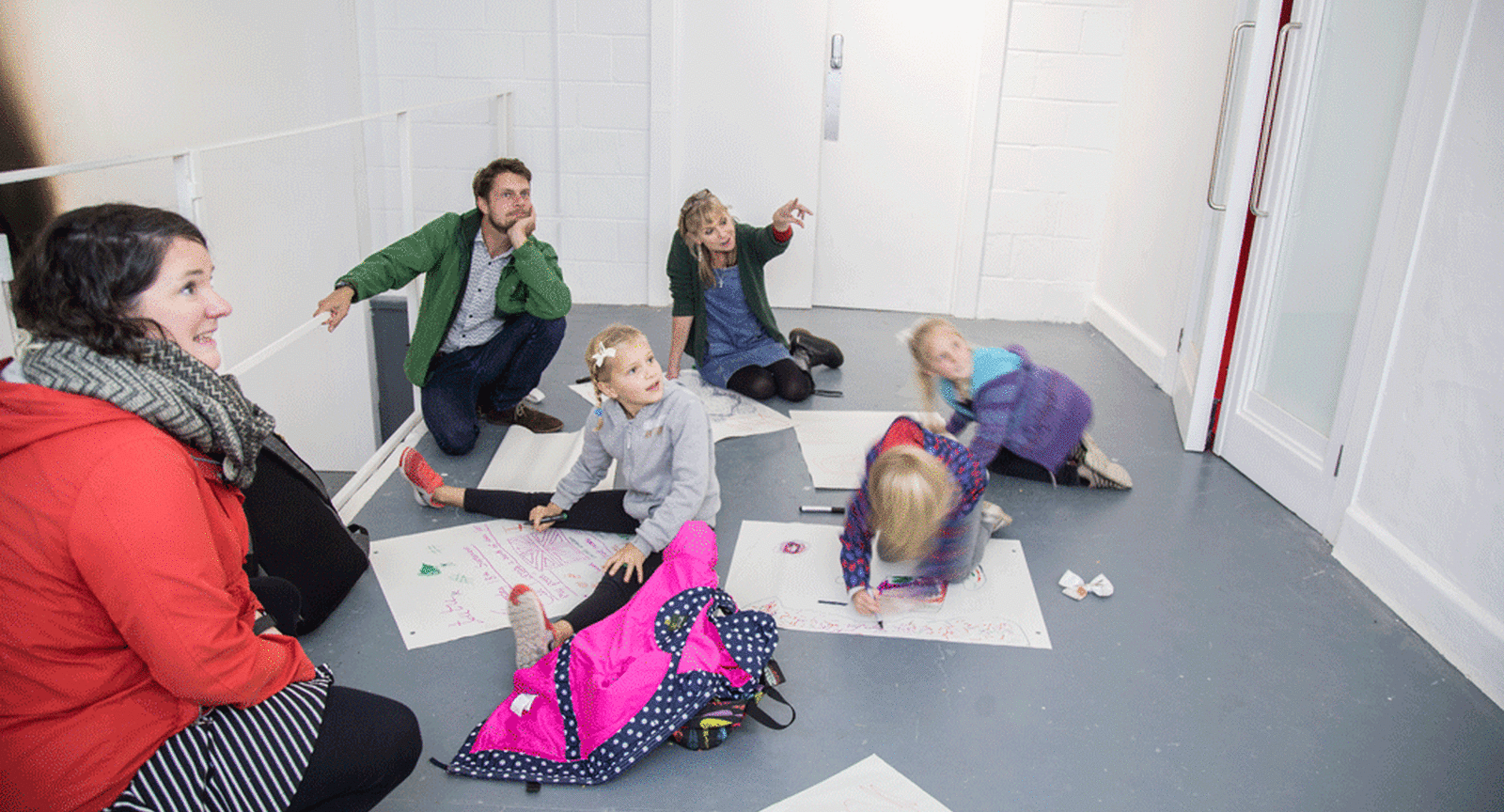 Families at KARST gallery training to lead Plain Speaking Tours of 'We The People Are The Work' 2018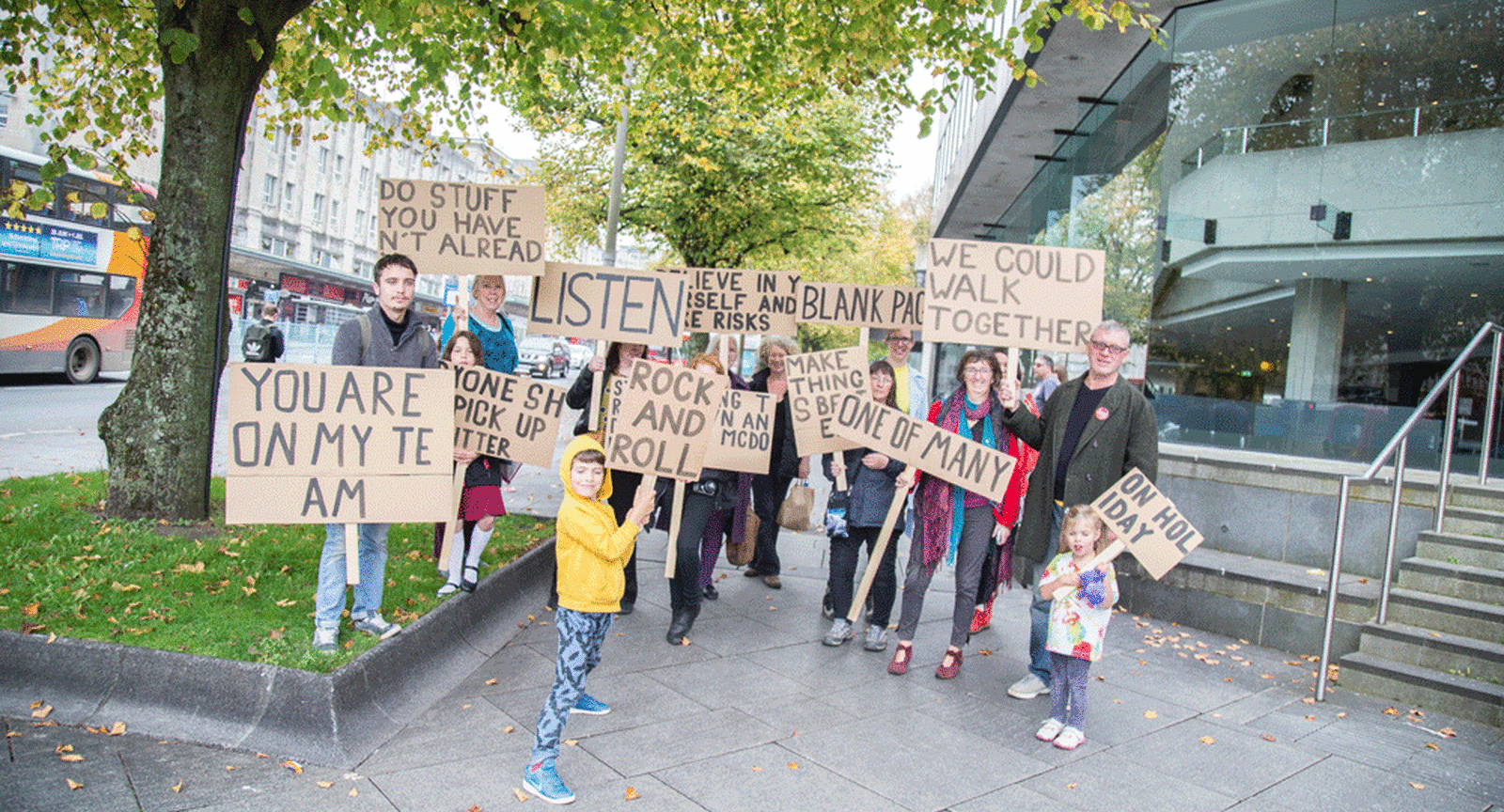 Plain Speaking Tour participants with their Peter Liversidge inspired signs, 2018
The tours remain a really important model of working for Take A Part both for the communities we are more embedded in and working with and the community audiences we can connect to. They are a confidence booster, skill developer and challenge for those community members who step up to train and lead the tours. And for those that attend and participate; they are an opportunity to connect with contemporary arts within the city, visit venues they may never have heard of and try something new.
Most importantly for everyone taking part Take A Part hope to create a sense that anyone and everyone can visit a contemporary art exhibition, that art is for everyone, everyone is entitled to an opinion and that it's always fun to challenge yourself and go and see something new. And if you don't like what you see then it is ok to say so.

The Plain Speaking Tours have trained 20 community members up as peer to peer community art experts, the youngest tour leader was 5 years old.
Around 90 people from communities in Plymouth have attended Plain speaking Tours.
Via the Plain Speaking Tours model TAP communities have worked with 2 major exhibitions, 8 galleries and three arts professionals
Crazy Glue have worked with galleries and National organisations including: The Hayward Gallery, The National Trust, the Philharmonia Orchestra, Plymouth Arts Centre, Situations
Following the impact of the Plain Speaking Tours Crazy Glue have worked on projects with organisations like; Encounters, Situations, The National Trust, The Philharmonia Orchestra
Since 2005, Efford, the home of the Crazy Glue model, has moved from being the 5th most deprived ward of Plymouth to 12th most deprived according the Index of Multiple Deprivation
For further information and support, contact Take A Part CIC.